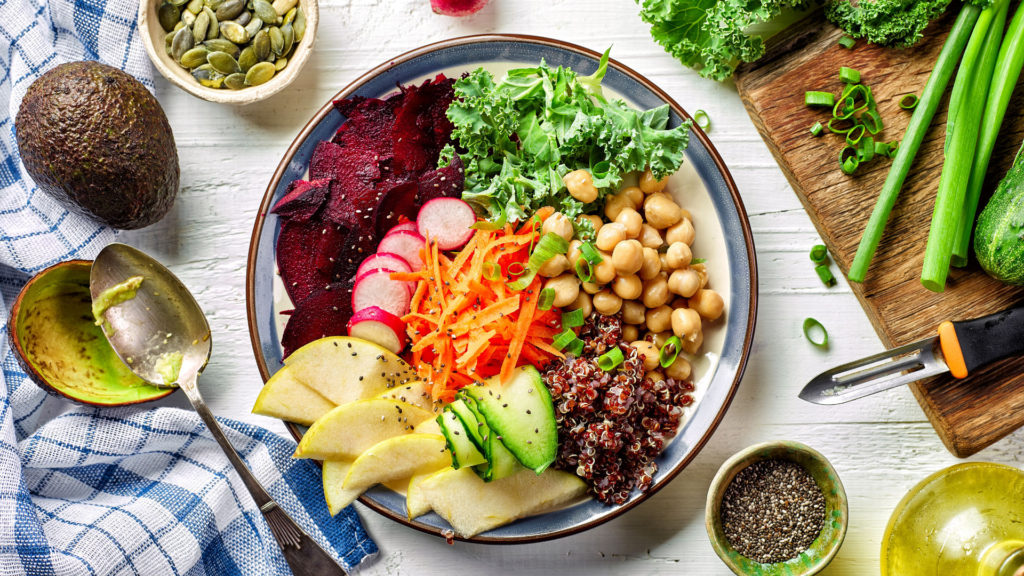 The Health My Lifestyle Meal Planner
Is a customizable meal planning application that takes all the guesswork out of what to eat on a plant-based diet with simple, wholesome recipes that help you save time, take back your health and achieve weight loss goals with ease.
Eating plant-based can actually take LESS effort than before! With the Health My Lifestyle Meal Planner, we make it ridiculously easy to fit your lifestyle!
Do you ever struggle to find easy recipes that don't take forever to make and that don't require expensive, hard-to-find ingredients?
Are you often settling for vegan junk food or fast-food on busy nights?
Is the idea of how to make a balanced meal that keeps you full and satisfied on a plant-based diet confusing and overwhelming?
If you answered yes to any of those questions, we've got you covered with the Health My Lifestyle Meal Planner!
It's hard enough eating plant-based. Let us take some of the stress off your plate.
We designed this meal planner to be the last meal planning tool you'll ever need.
The Health My Lifestyle Meal Planner

Everything you need to be successful on a plant-based diet, made simple.
"I've tried other WFPB meal plans and they're either too complicated or use expensive ingredients. I love that this meal planner provides options that I can actually find and afford. It really has saved me so much time and money."
-Miriam, Meal Planner Member
CUSTOMIZABLE MEAL PLANS TO FIT YOUR GOALS
WEEKLY PRE-MADE MEAL PLANS
NUTRITION INFO WITH CALORIE & MACRO TRACKING
Become a plant-based pro — plan, shop, and cook with ease, all while feeling great, losing weight, and having tons more energy and confidence.
"I cut out meat and dairy a few months ago and started gaining weight (one too many vegan burgers and pasta nights). I joined the meal planner just last month and I'm down 4.5 pounds already. Wish I had known about this from the beginning. I feel like I'm eating tons of food and yet I'm losing weight."
-Jim, Meal Planner Member
Simplify your life and make eating healthier way more fun
200+ delicious, healthy meal ideas for every occasion and taste preference
Grab one of our done-for-you weekly meal plans or get creative and build your own
Based on your meal plan, your grocery list will be automatically generated
All recipes include nutrition info including calories, macros, and more
Easily find healthy meals perfect for you – filter by meal type, ingredient, cooking time, calories, and dietary preferences
Easily scale recipes to your needs – finally have a meal plan that is tailor-made to your preferences!
Print off your plan, recipes, or shopping list for extra motivation
Add notes and reminders to your meal plan to keep your week organized
Whether you like to have a snack in the morning or you would like to start your plan on a Tuesday, our Planner is flexible to your lifestyle and schedule
One size does not fit all
We make it super simple for you to build and customize meal plans that are perfect for you
Adjustable serving sizes
We've made it super easy to scale the serving size of any meal up or down to suit your needs. We'll even update your grocery list automatically.
Simple drag n' drop
Life is busy. If you change your mind about a meal or your schedule changes, easily drag n' drop any meal to another slot on your Planner.
Advanced Nutrition
Toggle nutrition information on or off. See real-time analysis and daily insights as you adjust your plan—we update the daily totals for you on the spot.
Have a personalized plan done for you *Exclusive Yearly Member Offer*
Have a personalized 7-day meal plan designed specifically for you, completely tailored to your food preferences, schedule, goals—even down to what kitchen appliances you have on hand! ($79 value)
"Just signed up for the yearly and can't wait for my personalized meal plan! Thanks so much for making this incredible tool available! I'm giddy with excitement for once to meal plan!"
-Leah, Meal Planner Member
You'll be eating delicious new food that YOU like while still achieving YOUR goals.
Over 200 quick, easy, and unique plant-based recipes, including your favorite foods like curry, pasta, pizza and burgers in a delicious and healthy way. We also have gluten-free, nut-free, and soy-free swaps and alternatives.
No Shortage of Delicious Plant-Based Meals
Take a peek at some of the meals in our meal planner
"I have to let you know that after having this for dinner, my non-vegan husband said sign up for a year to Health My Lifestyle!! The recipes are delicious and he's becoming a little more vegan with every meal."
-Kari, Meal Planner Member

For everyone who wants to...
"Ok this meal planner is LIFE CHANGING. I was so uninspired with my food before and got into a serious food rut. Then I found your meal planner and everything I've tried is delicious and easy to make."
-Hannah, Meal Planner Member
Don't waste any more time
Even if you've failed at following meal plans in the past and didn't stick with it, our Meal Planner is different. You're more likely to stick with something if there's flexibility and you have some control — which is exactly what the Health My Lifestyle Meal Planner provides!
Set yourself up for success
It's the last meal planning tool you'll ever need. Learn how to meal prep, make satisfying meals, and make healthy eating sustainable for life!
Sign up for the Health My Lifestyle Meal Planner and start your own success story today!
Similar meal planners are $20+ per month!
We are constantly improving the meal planner and can't keep prices this low forever! Lock in this rate now! (Cancel anytime)
We're so confident you'll love it, we'll let you try it out for 40% off your first month when you sign up today!
Monthly
$9.99
$
5
For one month, then $9.99/mo
Customizable Meal Plans & Shopping Lists

Weekly Pre-Made Meal Plans

2 FREE bonus guides: Meal Prep Tips & Healthy Lifestyle Tips
Yearly
$199.99
$
99
Best Value
2 MONTHS FREE
Customizable Meal Plans & Shopping Lists

Weekly Pre-Made Meal Plans

2 FREE bonus guides: Meal Prep Tips & Healthy Lifestyle Tips

Exclusive: 1 Personalized Meal Plan Done For You! ($79 value)
"I've had done-for-you meal plans in the past but I just couldn't stick to them. It usually required lots of manual calculating to make enough for my family plus leftovers. This planner has given me the flexibility and ease to adjust things as needed without any additional effort on my part. It's so easy now."
-Jenna, Meal Planner Member
"The distance between who I am and who I want to be is only separated by what I do!"
More Raving Reviews from Members
After being vegan-curious for the past year, Health My Lifestyle was just what I needed to have the knowledge and confidence to incorporate delicious and healthy vegan meals into my diet. The idea of cooking tasty vegan meals was overwhelming until I had the HML Meal Planner. Now I'm saving time and energy while providing my family healthy, nutritional, and delicious vegan meals!
I love cooking and experimenting in the kitchen but there are times where I hit a wall and I'm in a food rut. This app has helped challenge me to do more than my normal. The recipes are easily digestible and are geared to what you already have on hand with maybe a few new purchases instead of a whole new pantry. The tools provided are easy to use and understand which makes for a great easy platform to start your plant-based journey. Starting vegan/eating less meat and getting all your macros can be hard as it can be overwhelming with all the new information. I love that this app makes it not so difficult especially being a single female in a meat based culture. Thank you for the tools and encouragement!
The recipes incorporate a wide variety of flavors and are never boring! And I love how it helps you make this a lifestyle. I absolutely recommend Health My Lifestyle to anyone! If you want to start living your best life today, check it out! You will not be disappointed! 🙂
"I hit a plateau with my weight loss and could not get past it for months. Within days I started losing weight again after tracking with the meal planner."
-Katy, Meal Planner Member